Eat, Speak, and Smile Confidently with Custom-Made Dentures
Many patients with widespread tooth loss have difficulty eating and speaking in addition to suffering from a diminished sense of self-confidence. At Koyfman Dental, voted a Top Dentist by Orlando Magazine, we seek to provide our patients with individualized solutions that make their lives easier. For patients who need to replace an entire upper or lower dental arch (or both), we offer traditional dentures as well as implant-supported dentures at our Orlando, FL, office. Depending on your needs and preferences, Dr. Michael Koyfman and Dr. Gita Rewari can help you decide which option is best suited for you. No matter which type of dentures you choose, we always provide our patients with natural-looking solutions. Your dentures will be created in a local lab that creates customized prosthetics for a comfortable fit and a flattering smile.
Types of Dentures We Offer
During a consultation in our office, our doctors can perform a comprehensive examination before recommending a restorative solution for missing teeth. At Koyfman Dental, we offer both traditional and implant-supported dentures to meet the diverse needs of our patients.
Traditional Dentures
A denture serves to replace missing teeth using a prosthetic that covers the teeth and gums. Dentures may be provided to replace one or both dental arches depending on the extent of tooth loss and your overall dental health. We provide both full and partial dentures that are secured with either dental adhesive or small metal clasps that are attached to adjacent teeth.
Traditional dentures are removable, which presents both advantages and disadvantages. While some patients prefer to be able to remove their dentures while they sleep, traditional dentures may also slip out of place or affect speech when they are worn. However, we also offer permanent and removable implant-supported alternatives.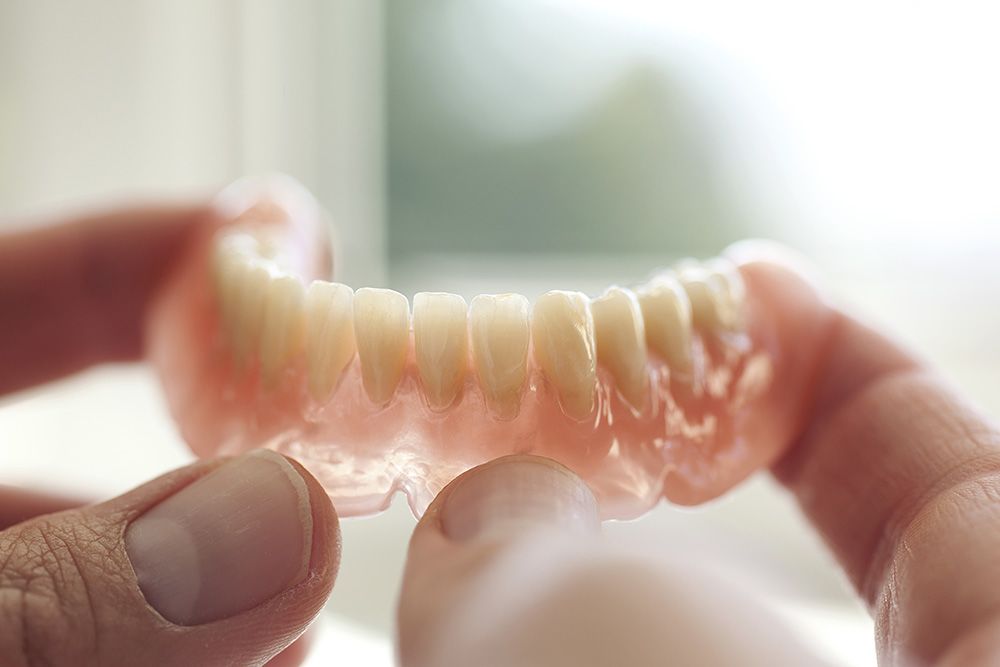 Implant-Supported Dentures
For patients who prefer a permanent tooth loss solution, implant-supported dentures are typically recommended. In this case, your prosthetics will be secured using dental implants which are surgically inserted into the jawbone. This provides patients with a reliable restoration that is fixed securely in place and functions just as your natural teeth would.
Dental implants are an effective replacement for your tooth roots, which has additional oral health benefits. These implants send regenerative signals to your jawbone and prevent further jawbone recession. Our doctors generally recommend these more secure alternatives as they can provide patients with peace of mind and ongoing oral health advantages.
With a genuine dedication to patients' well-being, Koyfman Dental has been voted a Top Dentist by Orlando Magazine.
Additionally, our doctors are able to perform all aspects of your procedure in our office, resulting in a reduced cost to you and allows us to offer high-quality treatment. Advanced training allows our doctors to perform the All-on-4® technique which offers patients the option to fully restore their smile in just one appointment. We can also provide dentures supported by traditional dental implants. While All-on-4 dentures are not removable, we do offer overdentures, which are anchored by dental implants but are equipped with a special attachment piece that allows them to be removed and inserted as you please.
What to Expect When You Receive Dentures
If you choose to restore your smile with traditional dentures, we will create detailed impressions of your remaining teeth and gums. These impressions will be sent to a trusted partner lab to create your custom prosthetics. You will be provided with temporary dentures during this period. You can return to our office in approximately 10 business days to have your dentures placed by your doctor.
Patients receiving implant-supported dentures will first need to undergo dental implant surgery. Depending on whether you choose traditional, overdentures, or All-on-4, your final restoration will be attached between four and nine months following your surgery.
Successful Tooth Replacement
Koyfman Dental has been providing patients with successful tooth replacement procedures for over 50 years and we have over 1,000 reviews provided by satisfied patients. If you would like to learn more about the types of dentures we offer, contact our practice online or call us at (407) 641-2302.